Aldeburgh Young Musicians spend a day with a specialist on their instrument or in their discipline. They'll work together with the specialists in informal masterclasses and workshops to look in-depth at repertoire, technique, approaches, careers and more.
January's VocalLab is run in conjunction with Friday Afternoons' young leaders.
VocalLab is AYM's unique vocal resource. Although it is an ensemble made up of voices, VocalLab is much more than a choir! Instead, it is a Vocal Laboratory for AYMs to experiment with their voice, a platform for aural training which develops valuable musical skills and confidence in a relaxed and social environment.
VocalLab provides opportunities for AYMs to lead, compose for and develop their own ensemble, using the instrument we all have in common – the voice. The ensemble encapsulates the AYM ethos of bringing an individual's specific skills to the fore and applying them to a huge range of styles. Through exposure to music from all around the world, covering many centuries, Aldeburgh Young Musicians are encouraged to be versatile and able young musicians.
Zeynep Özsuca
The Turkish pianist Zeynep Özsuca has performed worldwide as a soloist, chamber musician and accompanist. Born in Ankara, she began piano lessons at the age of four and continued her studies at Ankara Conservatory of Hacettepe University. After winning Istanbul Symphony's Young Soloists Competition in 2001, Zeynep moved to the United States to complete a Bache- lor's degree in Piano Performance at the Oberlin Conservatory under Prof. Peter Takács. She then majored in accompaniment and vocal coaching at Hochschule für Musik "Hanns Eisler", Berlin with Prof. Alexander Vitlin and graduated with an MA in 2013. Zeynep currently lives in London and pursues her career as concert pianist and repetiteur.
Zeynep has worked with conductors such as Gustavo Dudamel, Simon Halsey, Sir Simon Rattle and Sir Antonio Pappano, and acted as rehearsal pianist for singers Magdalena Kozená, Rolan- do Villazón, Gerald Finley, Annette Dasch, Michael Schade to name a few. She has been work- ing as a repetiteur and orchestra member with renowned opera companies and orchestras like London Symphony Orchestra, Berlin Philharmonic, BBC Philharmonic, Staatsoper Berlin, Aix- en-Provence Music Festival, Royal Opera House Covent Garden and Glyndebourne Festival Opera.
As a chamber musician, she has performed on prestigious stages including the Berlin Philhar- monie, Palau de la Musica Valencia, Schleswig-Holstein Music Festival, Queen Elizabeth Hall as well as live radio broadcasts on Deutschlandfunk, Deutschlandradio, RBB Kulturradio (Ger- many), RNE (Spain), BBC 3 and 4(UK), alongside co-hosting the BBC Young Musician Pod- cast. She also regularly appears in concert with her duo partners saxophonist Jess Gillam and clarinetist Sacha Rattle, as well as her wind and piano sextet Berlin Counterpoint.
​
Zeynep has a close working relationship with the Guildhall School of Music and Drama where she has acted as accompanist, music director of opera scenes and currently as lecturer of the Opera Skills course.
Oliver Pashley
Oliver Pashley is a young London-based clarinettist and founding member of contemporary quartet The Hermes Experiment. He is Sub-Principal Clarinet of Britten Sinfonia, and has played guest principal with groups including the Royal Philharmonic Orchestra, BBC Concert Orchestra, Bournemouth Symphony Orchestra, London Mozart Players, and English National Ballet.
As part of The Hermes Experiment Oliver has toured the UK and abroad. The ensemble, consisting of soprano, clarinet, double bass and harp, has commissioned over 50 new works and arrangements for the group, and frequently ventures into live improvisation, graphic score, and performance art. Recent highlights include performances at Wigmore Hall, LSO St Luke's, Southbank Centre, Kings Place and Spitalfields Festival.
John Blease
John is perhaps best known for being a member of Robert Plant's band the Sensational Space Shifters with whom he has toured the world. He has also performed and recorded with a vast array of eclectic artists including Seal, Goldie, Paolo Nutini, Goldfrapp, Ghostpoet, Jamie Cullum, Ben Folds, Skepta, Donal Lunny, Mika, Birdy, Lizz Wright and Mose Allison.
As a member of the Heritage Orchestra, he has worked with acts such as Tim Minchin, Anthony & The Johnsons, Giorgio Moroder, Unkle, The Streets, Scott Walker and Massive Attack as well as with the hugely successful "Ibiza Classics" project with Pete Tong, recording three number 1 selling albums.
John keeps himself busy at his own studio as well as recording on numerous film, tv and library sessions around London. He is a member of Brass Mask, a Mardi Gras/New Orleans inspired brass band and Typewritten, an all acoustic, multi-instrumental chamber project. John was also awarded an ARAM from his former music school, the Royal Academy of Music.
Maz O'Connor
English singer and songwriter Maz O'Connor has been described by The Guardian as 'one of folk's brightest young talents'. She grew up in the wild Lake District of the Romantic Poets, studied literature at Cambridge and is now settled in East London. Her roots are in Ireland, where her grandparents hailed from, and all of these diverse influences work together to make her songwriting something unique. Her exceptional voice provides the perfect vehicle for her powerful songs. In 2014 O'Connor was the recipient of a BBC Performing Arts Fund Fellowship (Adele was a previous recipient). During this year she wrote her album 'This Willowed Light', which earned her a nomination for the BBC Radio 2 Folk Horizon Award and appearances at high profile festivals such as Cambridge Folk Festival, WOMAD and Glastonbury. Her second album 'The Longing Kind', was a coming-of-age piece, about which Songlines wrote: 'There is an inquiring intelligence as well as an emotional sensibility at work here…she plays and sings beautifully *****'. She toured the U.K. and Europe, and opened for such artists as David Gray, Thomas Dybdahl & Rosanne Cash. O'Connor's new album 'Chosen Daughter' is a concentrated feminist statement. It is not protest music, but a very personal album which explores, and celebrates, the feminine, inspired by the stories of her grandmothers. Released on October 25th.
'Maz O'Connor's ace, apart from her remarkable songwriting talent, is her captivating voice ****' (Q)
'The perfect mix of youthfulness and gravitas ****' (The Observer)
Alena Walentin
Alena Walentin is an Altus Artist and Vice-Chair of the British Flute Society.
Alena is a flute teacher and chamber music coach at the Royal Birmingham Conservatoire, Guildhall School of Music and Drama, City University of London and Junior Royal Academy of
Music. She has also given masterclasses at the Verbier Festival Amateur Chamber Music Week in Switzerland, Ponte Cultura music course in France, ESMAE and Academia de Música de Vilar do Paraíso in Portugal, Singapore Flute Festival, William Bennett International Flute Summer School and Dartington Summer School & Festival.
Alena has appeared as a guest principal flute with the Orchestra of the Royal Opera House, Covent Garden, Iceland Symphony Orchestra, Opera North, the Philharmonia, Hallé, Britten Sinfonia, London Mozart Players, MusicAeterna, BBC Scottish Symphony Orchestra, BBC National Orchestra of Wales, Royal Northern Sinfonia and Orchestra of St John's. Alena is a recipient of numerous prizes and awards such as the first prizes in the British Flute Society's competitions, International Flute Competition "Friedrich Kuhlau" in Germany and awards from the Worshipful Company of Musicians, the Hattori Foundation and the Wolfson Foundation.
Alena has also judged competitions in Italy, Russian Federation, Singapore, United Kingdom and the United States, including the National Flute Association's Young Artist Competition, Singapore Festival Flute Competition and the British Flute Society's competitions. Alena is a member of the Atéa Quintet and regular guest with different ensembles including Ensemble Cymru, Ensemble 360 and Alban Berg Ensemble Wien. Alena played at the most prestigious UK venues including the Royal Festival Hall, Wigmore Hall, Barbican Hall, King's Place, Buckingham Palace, Windsor Castle, and the Royal Albert Hall. Alena has performed solo works with the Moscow Chamber Orchestra and Moscow Philharmonic Orchestra and has given recitals in most of European countries, United States, Canada, Asia, Russia and the United Kingdom.
Tom Moth
Tom began playing the harp at the age of 6. During his early years he played in various bands and orchestras in the Suffolk area, as well as performing solo and chamber recitals. After gaining a degree in Harp & Composition at Trinity College of Music, he began writing and performing under the name Lunamoth, mixing loops and samples with his harp…often augmented with various effects. Lunamoth's cover of Bjork's "Army Of Me" was selected by Bjork herself to be included on the compilation "Army Of Me – Remixes and Covers", released through One Little Indian records in aid of UNICEF. Since 2008, Tom has been recording and performing as part of Florence and the Machine, playing on the best-selling albums "Lungs", "Ceremonials" "How Big, How Blue, How Beautiful" and "High As Hope". "Lungs" was also nominated for the 2009 Mercury Music Award and won the BRIT Award for Best Album in 2010, whilst "Ceremonials" was nominated for "Best Pop Vocal Album" at the 2013 Grammy Awards. Tom's playing was featured prominently on singles including "Dog Days Are Over", "You Got The Love", "Rabbit Heart", the UK number 1 "Spectrum (Say My Name)", and "Wish That You Were Here" (from the soundtrack of the Tim Burton movie "Miss Peregrine's Home For Peculiar Children") Their extensive tours have seen the band play at festivals including Reading/Leeds, Coachella, Primavera, Laneways and headlining the Pyramid Stage at Glastonbury in 2015, as well as venues such as the Royal Albert Hall, Sydney Opera House, Red Rocks, Colorado and the Hollywood Bowl. TV appearances have included Later With Jools Holland, Top Of The Pops, The Late Show with David Letterman, Late Night with Jimmy Fallon, Saturday Night Live, The Voice (in Germany) and X Factor (in the UK, US and Australia). As well as his work with Florence, he has contributed to recordings by a variety of other artists over a wide range of genres. Recent sessions include Lou Rhodes (Lamb), New Model Army and Lady Gaga. Tom is currently working on a new solo album and is also in demand for session work and performances.
Naomi Sullivan
Naomi lives and works as a freelance saxophonist in London. She has been Head of Saxophone at the Royal Birmingham Conservatoire since 2008. After studies at Chetham's School of Music, Royal College of Music and Northwestern University, Chicago, she performed in the UK as part of the Countess of Muster Recital Scheme, Park Lane Group and 'Live Music Now!' As a chamber musician, Naomi has been part of several groups – including Paragon Saxophone Quartet, Zephirus Quartet and more recently with Flotilla, lead by Kyle Horch (www.flotilla.org.uk). She is currently performing with Sounding Cities (www.soundingcities.com) – a collaborative project that uses audio/visual arts. Sounding Cities works with composers and visual artists to devise performances inspired by responses to our urban surroundings – questioning how we experience contemporary music and how music and art can mirror our fast changing cities. After a tour of South Africa in 2017, they have performed for the Bechstein Series at Wigmore Hall as well as independent galleries in Birmingham and London. In 2009, at the World Saxophone Congress in Bangkok, Naomi co-founded syzygy, (www.syzygy.create.net) with the aim to perform contemporary works for saxophone quartet. syzygy's debut performance was at the Adrian Boult Hall, Birmingham, as part of the Frontiers + Andriessen Festival, where they performed Louis Andriessen's Facing Death. Following this, syzygy performed at venues and festivals including the Huddersfield Contemporary Music Festival, the Purcell Room as part of the Park Lane Group Young Artists New Year Series and 'Proud', Camden. In 2014, with support from Help Musician's UK, C.A.S.S UK and the many kind supporters of a Kickstarter project, syzygy released a debut recording of David Maslanka's 'Songs for the Coming Day'. She has recently joined the award-winning Laefer Quartet, (www.laeferquartet.com), who plan to record their debut album soon. As an orchestral musician, Naomi has worked for a number of UK orchestras including Birmingham Contemporary Music Group, City of Birmingham Symphony Orchestra, BBC Scottish Symphony Orchestra, Halle Orchestra, Aurora Orchestra, Piccadilly Dance Orchestra, The Opera Group, Birmingham Royal Ballet, Orchestra of the Swan and Music Theatre Wales and most recently with Chineke! Alongside teaching at the Royal Birmingham Conservatoire, Naomi has taught at the Purcell School, City of London School and has given masterclasses at the Royal Conservatories of Amsterdam, Ferrara, Lucerne, Fermo, Pesaro, Brussels, Antwerp and at the Royal College of Music, Chetham's School of Music and the Purcell School. More information can be found a www.naomisullivan.com.
Oliver Heath
Oliver Heath studied at the Purcell School and the Royal Northern College of Music with Yossi Zivoni and Jan Repko. He continued his studies at the Riena Sofia with Alasdair Tait. Other teachers have included Gabor Takacs-Nagy, Ferenc Rados, Isabel Charisius and Gerhard Schulz. As first violinist of The Heath Quartet, he has recently been awarded by Gramaphone magazine, the Royal Philharmonic Society, Borletti-Buitoni Trust and Festspiele Mecklenburg-Vorpommern. They appear throughout the world at the most esteemed concert halls, and are often broadcast on the BBC and throughout Europe. They have an especially close relationship with the Wigmore Hall, where they have recently presented complete Tippett and Bartok cycles. Oliver's solo work has included concerto and recital performances throughout Europe, most recently performing on tour throughout the Czech Republic with Birmingham Schools Symphony Orchestra. He is a regular at the International Musicians' Seminar, Prussia Cove, and has worked with an array of musicians including Stephen Hough, Michael Collins, Ian Bostridge and Aleksander Madzar. He has also collaborated with many leading composers including Sofia Gubaidalina, Brett Dean, Steve Mackey and Hans Abrahamsen.
Sarah Williams
Sarah was born in Wigton, Cumbria and whilst at school studied trombone with Andy Berryman and was a member of the Northern Junior Philharmonic Orchestra and the National Youth Brass Band.
She studied at Hull University and went on to gain a place on the postgraduate course at the Royal Academy of Music receiving bass trombone tuition from Bob Hughes. During this time, she was also a member of the Schleswig-Holstein Jugendorchester.
Since graduating Sarah has enjoyed a busy and varied freelance career, working in both the orchestral and jazz scenes.
As well as working with orchestras such as the Royal Philharmonic Orchestra, English Chamber Orchestra and BBC Concert Orchestra, she has played in a huge variety of West End shows including Crazy For You, Phantom of the Opera, Guys and Dolls, Les Miserables and Oliver. Sarah has collaborated with many artists across the jazz and pop world such as Kenny Wheeler, Stan Sulzman, Tony Bennett, Jamie Cullum, Tom Jones, Lulu and Dannii Minogue. She has appeared on many film soundtrack recordings including Little Voice, The Legend of Sleepy Hollow and Ronin, and was for many years a member of the house band for the 'Parkinson' television show.
Recently she was in the band for the revival of the classic Broadway musical '42nd Street' at the Theatre Royal in London's Drury Lane.
She was once described by a leading jazz critic as "quite glamorous"!
Gary Farr
Gary Farr (trumpet) studied at the Royal Northern College of Music gaining a BA degree and professional performance diploma before joining the internationally recognised contemporary music group Remix Ensemble in 2000. He has performed solo works by Berio, Henze, Turnage, Jolivet, Rebecca Saunders, and gave the first performances of Olga Neuwirth's solo trumpet work 'Laki' in Paris, Vienna, Strasbourg, and Porto. Gary holds the position of Sub-Principal Trumpet of the BBC Philharmonic and performs regularly with orchestras such as the LSO, Philharmonia, Aurora, and the Hallé as well as contemporary music groups London Sinfonietta, BCMG and the Ensemble Modern. He is tutor of trumpet at Manchester University and a founder member and director of the Vonnegut Collective, an open form new music ensemble that features sound exploration through improvisation and collaborations with composers, visual artists and dancers.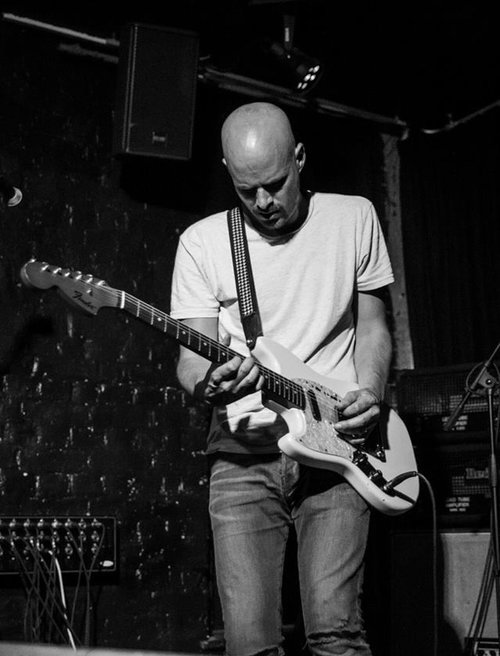 Chris Sharkey
'fiercely inventive, powerfully independent' – the guardian
chris sharkey is a musician from the north-east of england.
based in leeds since 1999, chris has dedicated the last 20 years to making forward-thinking new music that blurs boundaries between improvisation, production, composition and the associated genres of these often separated fields.
an active national and international performer with acoustic ladyland, trioVD, shiver, the geordie approach, roller trio and as a solo artist, he is a guitarist, bass-player and electronic musician.
chris is also a producer and has recorded and mixed albums for ACV, mole, taupe, world service project, trioVD, shiver and roller trio.
Minat Lyons
"For the sheer musicality of her interpretations I would single out Minat Lyons – a fine young cellist with an exceptionally rich and nuanced tone at her disposal … Lyons took sensitivity for idiom and line in her playing to a completely new level" — E. Dickerson, Seen and Heard concert review; Wigmore Hall
Minat Lyons is Co-Principal cellist of the London Symphony Orchestra, which she first joined whilst still an undergraduate student at the Royal College of Music. She has also been a regular Guest Principal of the Aurora Orchestra and European Camerata. A keen chamber musician, she has performed with string quartets across Europe and Asia, and is regularly invited to teach at the Royal Academy of Music and Guildhall School of Music & Drama. Minat graduated from the RCM in 2009 with Distinction in a PGDip in Advanced Performance, having received awards including the Ivor James, Helen Just, Wills Gordan, Thelma Reiss, Stuart Knussen and Anna Shuttleworth prizes and the Amaryllis Fleming scholarship. She has been awarded scholarships by the Philharmonia Orchestra/Martin Musical Scholarship Fund, the English Speaking Union, and the Arts and Humanities Research Council, and was lent a fine Amati cello by the Balmain Charitable Trust.
Heidi Fardell
Heidi is a freelance recorder player, music tutor and workshop director, performing with early music groups Armonico Consort, Fiori Musicali, and Saltarello Ensemble. Heidi also collaborates and records with many contemporary artists.
Heidi gained her Bmus (Hons) and Mmus in performance qualifications at Goldsmiths University (1998-2004) and studied recorders with a variety of tutors including Louise Bradbury, Dan Laurin, Katriina Boosey and Peter Holtslag.
Alongside her recorder playing, Heidi is also a respected musician in education. In 2006 she began her post as a recorder tutor at Trinity Laban Conservatoire of Music and Dance Junior department and has taught in a wide variety of educational settings across London and Oxfordshire since 2001.
With her colleagues in Saltarello ensemble Heidi creates bespoke musical workshops for a variety of clients who have included Kensington Palace, the Royal Festival Hall, Handel House Museum, Tate Britain and the National Gallery.
Joseph Phibbs
Joseph Phibbs was born in London, and studied at The Purcell School, King's College London, and Cornell University. His teachers have included Param Vir, Sir Harrison Birtwistle, and Steven Stucky. Described by BBC Music Magazine as "one of the most successful composers of his generation", Phibbs's works have been championed by some of the world's leading conductors, including Edward Gardner, Gianandrea Noseda, Sakari Oramo, Vassily Petrenko, Esa-Pekka Salonen, Alexander Shelley, and Leonard Slatkin. Rivers to the Sea, the first of several large-scale orchestral works composed in recent years, was premiered to acclaim in 2012 by the Philharmonia Orchestra under Esa-Pekka Salonen, and has since received numerous performances in the UK and abroad, winning a British Composer Award in 2013. His most recent large-scale work is a Clarinet Concerto, a three-way commission between the soloist, Philharmonia Orchestra, and Malmo Symphony Orchestra, and first performed in 2017 by Mark van de Wiel and the Philharmonia Orchestra under Edward Gardner. A recording was released recently on Signum, attracting critical acclaim in The Sunday Times, Classic FM, Classical Source, and elsewhere. It was recently selected by The Sunday Times as one of the 100 Best Albums of 2019. He has also composed concertos for Evelyn Glennie (Bar Veloce), Sarah Williamson (Concertino for clarinet, strings, and harp), and Nicholas Daniel (Towards Purcell, a concertante work for oboe, horn, harp), as well as Evian Variations (Dacha Savoyarde) for cello and orchestra, premiered under Laurence Dale at the 2013 Evian Festival.
Key contact
Tilly Gugenheim – Producer, AYM
tgugenheim@snapemaltings.co.uk
01728 687165
Credits
AYM is generously supported by Arts Council England, Angus Allnatt Charitable Foundations, The Cedar Trust, in memory of Sheila Stainton, The Department for Education, Foyle Foundation, The Ganzoni Charitable Trust, The Leverhulme Trust, Limbourne Trust, Sorkin Family Charitable Trust, Trinity College London and the Garfield Weston Foundation, in addition to a number of generous individuals, including Edward Bray, Professor Sir Barry Ife and Jeremy & Elizabeth Wagener.