Aldeburgh Young Musicians' distinctive approach to musical development equips passionate young people with the skills they need to thrive as creative musicians.
Our residential model encourages the development of musical and interpersonal skills, as like-minded young people integrate and collaborate with their contemporaries and some of the countries' most celebrated professional artists through a series of different activities, each designed to offer the most relevant and exciting opportunities available. Over the course of their time at AYM, a young person will experience many different ways of working, each time being introduced to new artists, musical ideas and concepts.
Our residential Courses are 4-5 days long and provide participants with the opportunity to immerse themselves within a creative environment, collaborating with a team of professionals to learn about music in an interactive and inspiring setting. Each course has a specific musical focus, allowing each AYM to gain an comprehensive insight into a specific style, approach, or genre.
Weekends maintain the overall breadth, ethos and focus of the Courses, whilst being shorter, bitesize, two-day residencies.
Our Additional Activities include Mentoring and Masterclasses, and other relevant and exciting opportunities.
Due to the current Covid-19 pandemic, our activities are currently operating online.
Sessions Orchestra
February 2021, Online Course
To explore orchestration, arrangement and performance, we creatively reimagined the songs of Joni Mitchell. We explored what makes a successful performer in a recording studio and were honoured to meet Leland Sklar and Russell Kunkel to learn about their experiences in the studio with Joni Mitchell. With Gabriella Swallow, Callum Au, Lizzie Ball, Pete Grogan, Millie Lihoreau and Clare Wheeler.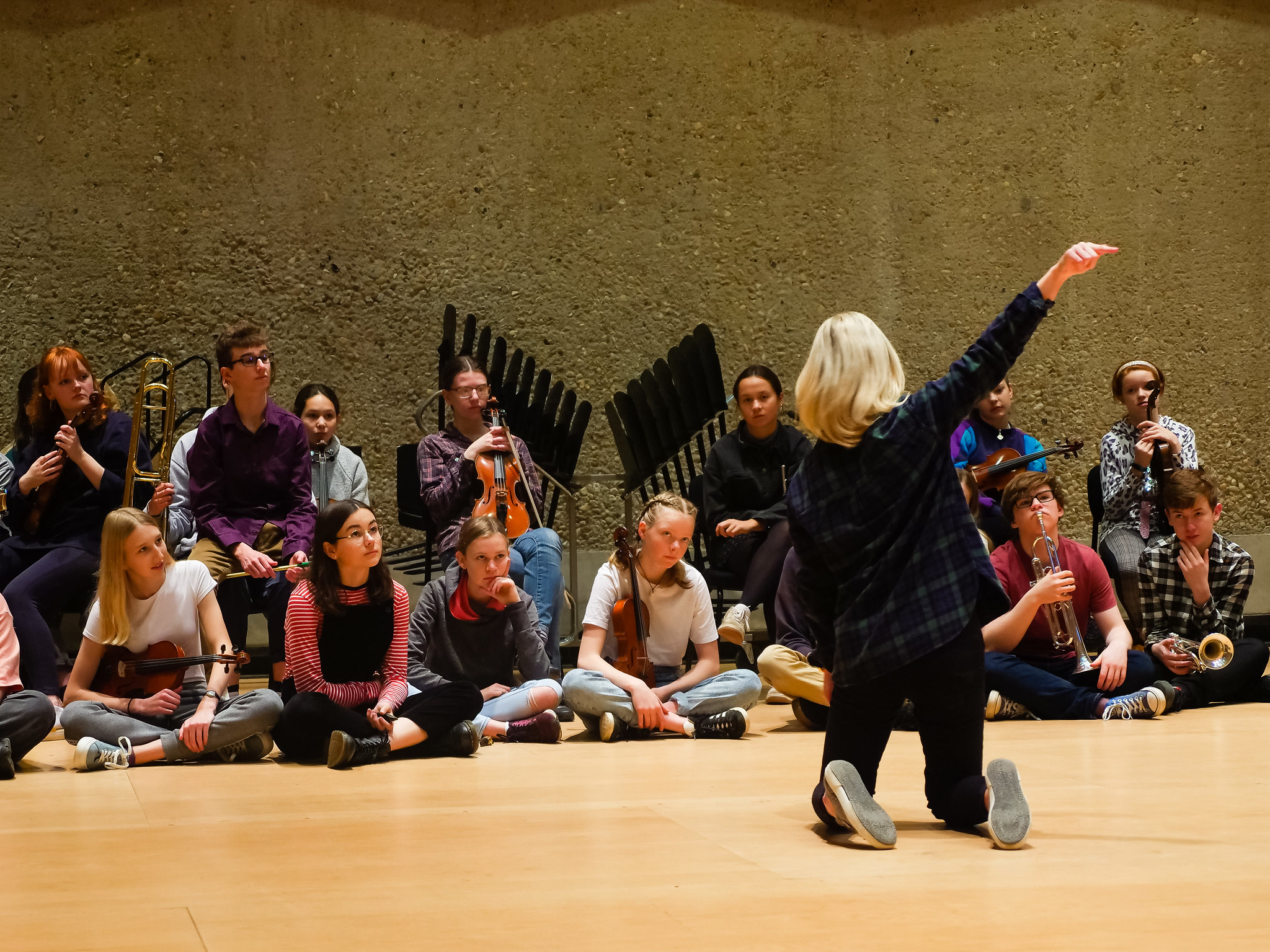 AYM Ambassadors
The Ambassador team offer bespoke support to each AYM, offering mentoring provision, advice and additional support. Our team have a huge amount of shared experience to offer, and you can choose to have a regular mentoring relationship or ask for individual sessions as and when you need them. There is no extra charge for this support and all AYMs have access to this offer.
Change is the only Constant
January 2021, Online Weekend
An immersive, interactive and vibrant weekend performing music from Europe, Asia and Africa. We created new music as a large ensemble and played traditional tunes in trios. With Paul Griffiths, Georgia Dawson, Jonah Spindel, Jonno Gaze, Georgia Denham, Jay Richardson and Evie Hilyer-Ziegler.
Masterclasses
Each instrumental group worked with a specialist to ensure we were all continuing to develop our technique whilst we couldn't meet in person. With Charis Hanning, Jason Evans, Jessie Grimes, Minat Lyons, James Maddren, Hilary Sturt, Sarah Markham, Maz O'Connor, Harry Escott, Chris Sharkey, Simon Wills and Sarah O'Flynn.
The ZRI Tavern Band
December 2020, Online Weekend
Collaborating with ZRI, we questioned how we could embrace working online to create new and exciting musical possibilities. We explored how ZRI reimagine classical and popular works into their own authentic style, before making our own music. With Jon Banks, Ben Harlan, Iris Pissaride, Matthew Sharp and Max Baillie.
The Blue Hour
November 2020, Online Weekend
Taking inspiration from the The Blue Hour, a cabaret event which examines satirical song of the Weimar Republic, we wrote our own protest songs, considering how we can use music to express our own views. With Sarah Gabriel, Gabriella Swallow, Beth Higham-Edwards, Isobel Doncaster and George Garford.
Music for Radio
October 2020, Online Course
We met online to explore Music for Radio, learning about the use of text and field recordings before composing, performing, recording, mixing and producing new works incorporating music, narration and field recordings. With Harry Escott, Sarah Playford, Iain Chambers, Roger Goula, Robin Brooks, Katherine Farnden and Millie Lihoreau.
Perspectives
September 2020, Online Course
We collaborated in an online space to discuss our inspirations and experiences and to create new music; we made 60 second-compositions, large ensemble pieces, and improvised with graphic scores. With Tim Steiner, Jay Richardson, Marla Kether, Georgia Morgan-Turner, George Garford, Isobel Doncaster, Jack Gionis and Sam Jones.
The AYM EP
July 2020, Online Project
Throughout the Summer term, we worked together in small groups to create our own pop songs, which we then made into an EP! We explored vocal technique, arranging and production skills, and made some amazing new music with Dominic Ellis-Peckham, Clare Wheeler and Nick Girard.
AYM Chamber Music
July 2020, Online Project
We collaborated with the Jacquin Trio to learn all about Chamber music and the skills and techniques we all need in order to be excellent contributors to small musical groups. At the end of the course, we recorded our work into SoundTrap and shared it with our families and friends. With the Jacquin Trio.
Exploring Opera
April 2020, Online Project
Working with professional composers, librettists, directors and vocalists, we learnt all about Opera! Taking inspiration from works by Mozart and Britten, we wrote our own stories and libretto which we then set to music. With Tom Coult, Heloise Werner, Gareth Mattey, Peter Brathwaite and Cordelia Lynn.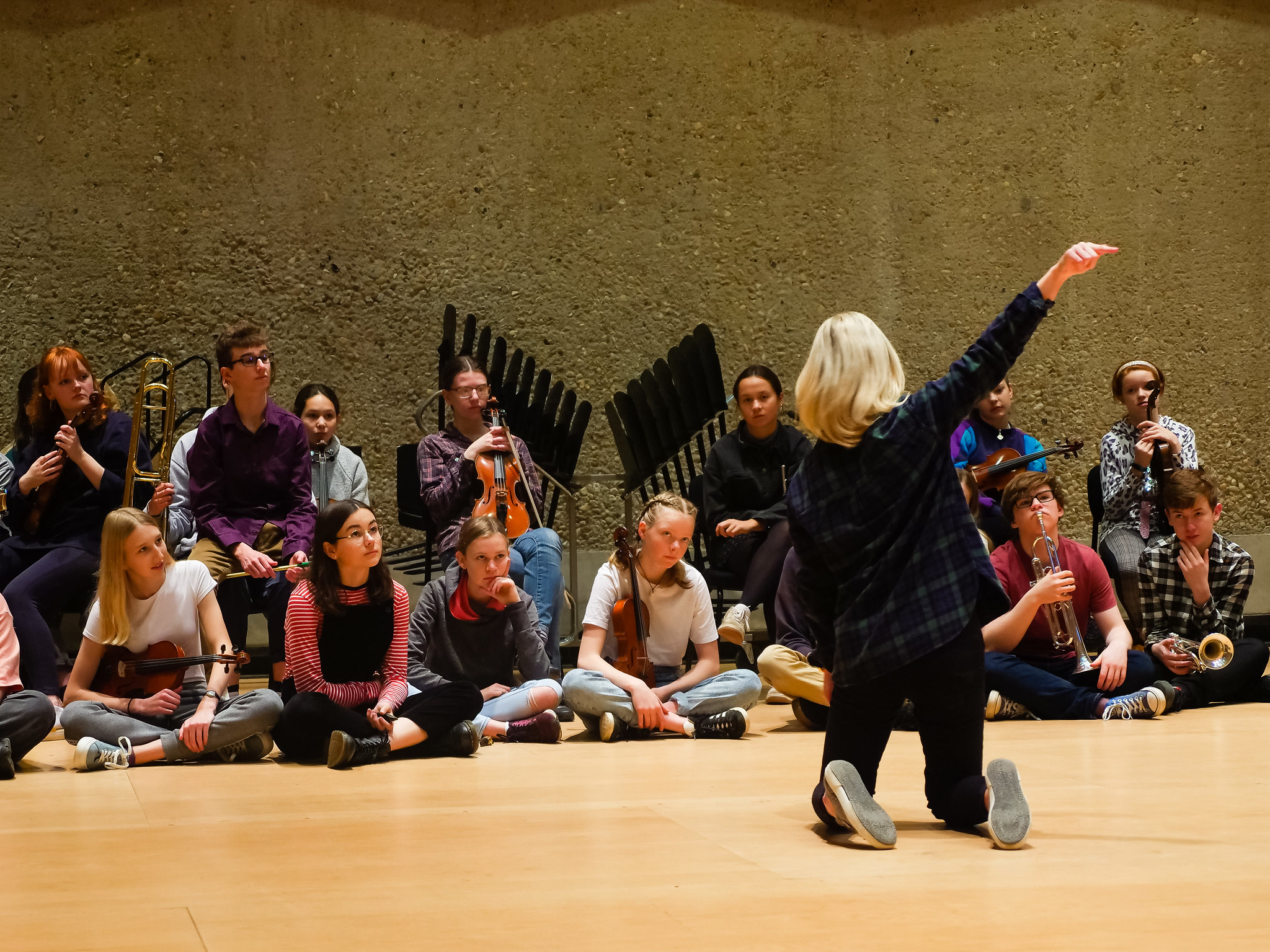 Songwriting
April 2020, Online Project
Over the course of this project, we explored all aspects of Songwriting. We listened to inspirational songwriters and performers, including Aretha Franklin and Bob Dylan, and worked in small groups and as individuals to create our own music in the style of a popular song or ballad. With Toby McLaren and Lo Barnes.
Beethoven Pastoral Project
February 2020, Residential Course
We celebrated Beethoven's 250th anniversary exploring his Pastoral Symphony and other musical works inspired by the natural environment, before creating our own works. With Hilary Sturt, Al Mobbs, Duncan Chapman, Dide Siemmond and Isobel Doncaster.
Early Music
October 2019, Residential Course
Collaborating with the Society of Strange and Ancient Instruments, we explored music from hundreds of years ago. We played 15th century dances, consort music and traditional popular music before writing our own works, considering the use of traditional instruments. With Clare Salaman, Jon Banks, Vivien Ellis and Imogen Ridge.
AYM & Afrik Bawantu
October 2019, Residential Course
Collaborating with Afrik Bawantu, we explored how traditional Ghanaian rhythms were influenced by funk, leading to the creation of Afrobeat. We created our own works and performed traditional works, incorporating dance and improvisation into our performances. With Afla Sackey, Suman Joshi, Louis Pocock and Harry Greene.
Introductory Residency
August 2019, Residential Course
We started the academic year by immersing ourselves within a myriad of creative processes and rehearsals. Inspired by a vibrant range of musical influences, we spent every day making new music together! With Tim Steiner, Ciaran Corr, Alex Wilson, Georgia Dawson, Evie Hilyer-Ziegler, James Seabrook and Georgia Morgan-Turner.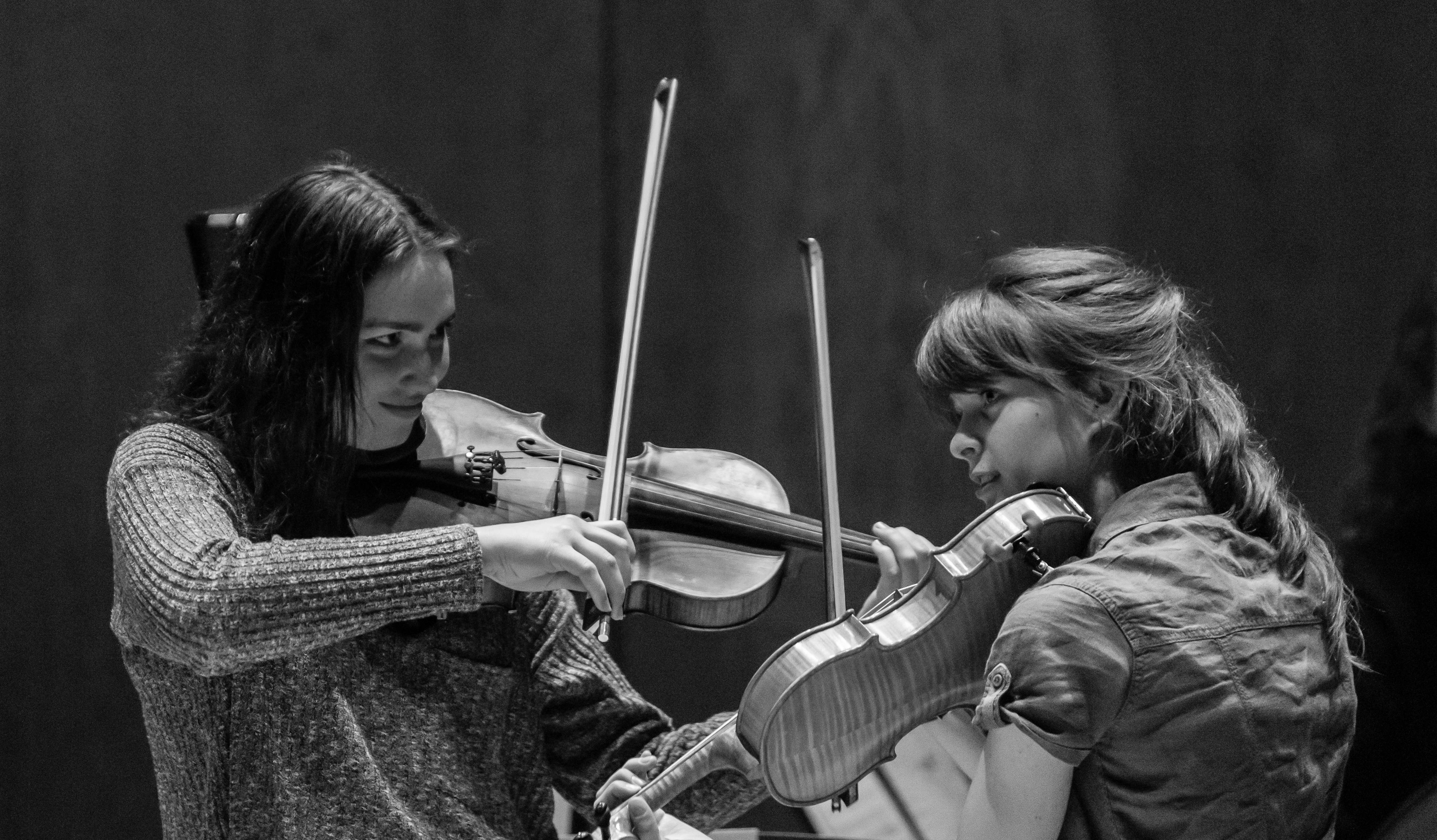 Previous Activities
Over the last 12 years we have offered a huge range of activities. The small but diverse selection above is representative of the opportunities we offer and the inspiring professionals that we work with.
Credits
AYM is generously supported by Arts Council England, Angus Allnatt Charitable Foundations, The Cedar Trust, in memory of Sheila Stainton, The Department for Education, Foyle Foundation, The Ganzoni Charitable Trust, The Leverhulme Trust, Limbourne Trust, Sorkin Family Charitable Trust, Trinity College London and the Garfield Weston Foundation, in addition to a number of generous individuals, including Edward Bray, Professor Sir Barry Ife and Jeremy & Elizabeth Wagener.